Customer service
Do you have questions about our service, products or specific orders? Or would you like customised advice on a project design? We are here for you! Contact one of our employees directly. They can be reached on working days from 8 a.m. to 5 p.m.
CONTACT US DIRECTLY »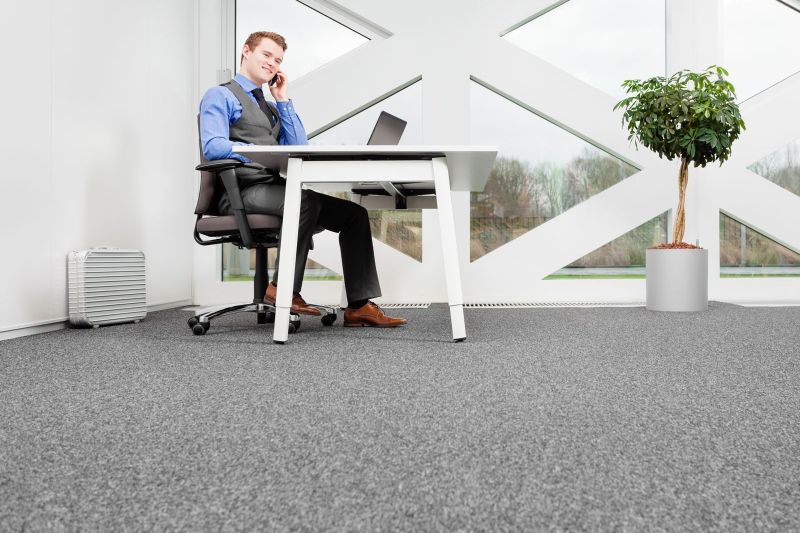 Frequently Asked Questions (FAQ)
Do you have a question about our products, service or delivery? You may find the answer below among the frequently asked questions. Is your question not listed? Contact us and we will be happy to help you!
Technical information
How is needle felt floor covering made?
First, the fibers are divided into different colors - depending on the needle punch design. There are fine and coarse fibers with a fineness of 17-135 dtex (decitex). The unit of measurement decitex indicates the weight of a thread in relation to its length. In a complex weighing and mixing process, staple fibers are pre-needled from bales by means of grinding, carding and cross-laying to form a fiber fleece. The fiber fleece produced in this way is then finish needled as a flat felt in a second work step and connected to the carrier material. In a third step, the goods are foam-impregnated with a latex binder in a full bath and then dried.
Which principle is needling based on?
The needle machine consists of a needle board that moves vertically in rapid strokes, with the needles piercing a needle grid in the lower vertical movement. The fiber fleece is pulled through horizontally between a hold-down device and the needle grate at a defined speed.
Barbs on the needles bring the fibers from the fleece surface through it, which creates a vertical entanglement of the fibers within the fiber fleece. Depending on the number of strokes, puncture depth and the withdrawal speed of the fiber fleece, the needling can be more or less pronounced, with which, depending on the use of the goods, correspondingly harder or softer needle felts can be produced.
Is needle felt suitable for air flow or climatic floors?
The term "displacement air floor" refers to specially constructed floor panels with air exhaust slots or perforated profiles in a standard grid of 60 cm x 60 cm with height-adjustable steel supports. The panels are individually laid in dry construction to form a composite surface. This design principle is particularly applied in open office spaces, data centers, assembly, meeting, and conference rooms, etc.
A decisive advantage of the displacement air floor construction can be attributed to the fact that it can perform air conditioning tasks such as ventilation with higher air and flow requirements across entire ventilation panels.
The Strong Premium Collection includes numerous sheet qualities that are particularly suitable for installation on raised floors or displacement air floors without additional production-related measures.
They are produced in standard sizes of 61.0 cm x 61.0 cm to ensure the required dimensional accuracy. The included templates are referred to as "dyecuts" and are applied by the manufacturer of the raised floor to the actual air distribution plates (60 cm x 60 cm).
How high is the dynamic load on needle punch coverings?
The dynamic load results from accelerations, as the name suggests, during movement dynamics. With loads z. B. by lifting trucks, the surface pressure of the floor covering is calculated according to Hertz's formula. Hertz's formulas are the standard method for calculating the surface pressure between curved bodies. The following information is required for the calculation:
• total weight (including maximum payload);
• number of wheels;
• Wheel dimensions (diameter and width);
• Material of the tires (Shore hardness)
A generally applicable limit value for the surface pressure cannot be specified. Experience shows, however, that needle punch coverings 6.0 mm thick can withstand pressures of up to 250 N / cm² (approx. 25 kg / cm²). This requires a correspondingly impression-resistant design of the substrate, its pretreatment and the full-surface gluing of the needle felt coverings in accordance with generally recognized rules of construction technology.
Since there are innumerable possibilities of wheel materials and wheel sizes in practice, a generally valid approval of the floor coverings cannot be given. In order to get an exact estimate of the load in a building project, the exact surface pressure must be calculated according to Hertz's formula.
What is meant by the term Dorix® - polyamide coarse fiber?
The needle felt premium qualities Strong, the popular classic among needle felt coverings, have been produced, laid and used for more than 55 years. The extremely robust textile coverings made from the spinneret-dyed Dorix® branded fiber stand for visible value in very heavily used objects.
Advantageous product specifications of Dorix - polyamide coarse fiber:
highest durability
highest color fastness values
good processability
high binder adhesion
very good dyeability
excellent pressure recovery
rot resistant
What should be considered for maintenance cleaning as a basis for maintaining value?
The (daily) maintenance cleaning of needle felt floor coverings should always be carried out with a powerful brush vacuum machine (brush vacuum cleaner) with regard to the dry mechanical removal of dirt. The acting mechanics remove more than the harmless amount of dust and loose dirt particles, even in a coarser structure, adhering to the lower level of the covering. The deposits in the depth of the wear layer usually lead to lightening fiber compression, damage to the fiber structure and, at a later point in time, to the formation of running roads.
How can I be sure that the Strong premium qualities have been produced in an environmentally friendly manner?
The Strong needlefelt qualities are awarded with well-known environmental labels that represent international standards and certifications. These objective institutions verify the products environment performance through strict criteria and compliance. It must meet several requirements regarding environment, safety and health. This is the case, for example, with the GuT mark, the TÜV ProfiCert premium and the Blue Angel mark.
What has to be taken into account when laying needle felt sheet goods in order to achieve color consistency?
It is a generally accepted rule of the trade and technology that only goods from one production may be laid within a room unit, whereby the increasing or decreasing roll numbers of the flooring strips must be taken into account. Furthermore, before laying the finished goods, it should be noted that the outer edge of the fabrication must be placed against the outer edge of the fabrication, whereby these must be trimmed manually beforehand. This is also an important criterion when using residual webs and strips. If residual strips and/or central strips (partial strips) are laid next to one another, significant color deviations often occur within the total laid area.
As in VOB DIN 18365, as well as according to general rules of technology, this topic is explained in more detail in the original text.
"It must be taken into account that only outer edge to outer edge (minus the required seam cut) may be laid next to one another. If residual and / or central stripes (partial webs) are placed next to one another, significant color deviations often occur."
Does needle felt coverings meet an allergy-friendly room climate?
Studies by the German Allergy and Asthma Association (DAAB e.V.) show that the use of a needle felt cover can significantly reduce the risk of increased fine dust pollution in indoor areas, in contrast to a smooth floor covering. The high dust-binding capacity of needle felt ensures that it does not swirl through the room air as easily as is the case with smooth and hard surfaces. Needle fleece binds the fine dust particles, which also contain the allergy-causing mite excrement, until the next time you vacuum. The best result is achieved by vacuuming with an electrically powered brush. Dirt particles of different shapes are removed from the depth of the fiber layer solely through the mechanical action of the bristling of a powerful brush vacuum. This means that dust particles cannot get into the room air and cannot be inhaled.

Does needle felt improve the room acoustics?
Needle felt has an extraordinary effect on room and footfall sound insulation and in this way creates a pleasant noise atmosphere. The sound-absorbing effect of needle felt Strong makes needle felt a very suitable floor covering for open-plan offices, sales rooms or other facilities with acoustic requirements. The working atmosphere can be significantly improved through room and footfall sound absorption.
Does needle felt promote thermal insulation, comfort and energy efficiency?
The indoor climate in rooms can be significantly improved by laying fiberbonded floor coverings. Needlefelt Strong Objekt not only offers more warmth, but also makes a measurable contribution to general thermal insulation. Due to their low thermal conductivity, the fibers also serve as natural heat insulators. For this reason, needle felt does not draw heat away from your feet as quickly as smooth floors. In addition, the fiber layer retains heat and thus further improves the thermal insulation.